LUXURY FURS
PRADA presents "A THERAPY" (Fur Fetish Film)
EMBA, GLMA, and American Legend Furs
EMBA is the trademarked name of The Mutation Mink Breeders Association. In 1942, a group of mink
fur
farmers joined forces to form a marketing cooperative. These ranchers specialized in mink fur in clear bright colors to which they gave distinctive trade names. EMBA often bought full page ads in Vogue magazine in cooperation with various designers and manufacturers of mink coats and stoles.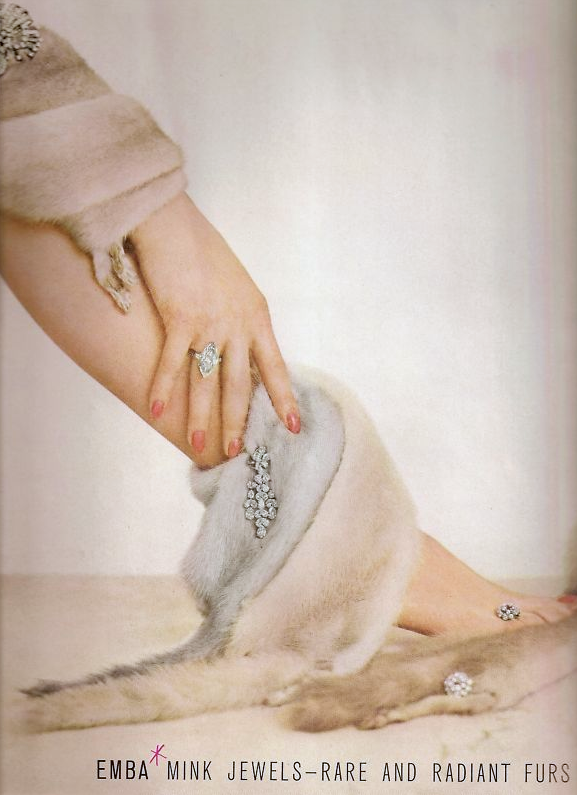 Five of the rarer light colors were: 1. Arcturus – lavender beige, 2. Morning Light – blue beige, 3. Azurene – blue grey, 4. Aeolian – taupe, 5. Tourmaline – pale beige. These colors were all natural, not dyed, and, according to EMBA, each represented less than 1% of the world's mink. The pelts above are photographed with Harry Winston diamonds.
Source: Couture Allure
EMBA, AMERICAN LEGEND, BLACKGLAMA
World renowned for their unbridled luxury and elegance, Blackglama products are created from the finest materials. Each Blackglama skin is hand selected, with less than 2% of the world's Black mink population being deemed worthy of the exclusive Blackglama name. Handcrafted from the highest quality mink in the world, Blackglama products are internationally regarded for their exquisite attention to detail. Each Blackglama product is individually labeled to ensure authenticity and can be found throughout the world at selected high-end retail locations.
CAMPAIGNS

Janet Jackson as the latest Blackglama Brand Ambassador
Since their inception, Blackglama® products have been regarded as the highest quality, most sought after mink garments in the world.
For more than four decades, Blackglama's famed "What Becomes a Legend Most?" campaign has added to the prestige of the Blackglama brand. Featuring prominent stars from all facets of entertainment, the campaign has helped to spotlight Blackglama products, gaining domestic and international notoriety.
Source: BLACKGLAMA.com
FUR FETISH ala Louis Vuitton
SAGA Furs

Luxury fur! The most sensual of materials. We did a photo shoot of spectacular fur garments created by designers who use Saga Furs and are inspired by our innovative ideas. The everlasting beauty, the romance, the mystery and the luxury are all depicted in this video.
Have a look at the video and feel the emotion of fur, the most captivating of all materials.
Featured styles by: Altuzarra, Christopher Kane, Gabriele Colangelo, Jean Paul Gaultier, Kaufmanfranco, Leonard, Roberto Cavalli, Roksanda Ilincic.
Source: SAGAFurs.com